Creating a Celebration That Looks and Feels Like You
By: Kelsey McKinnon
The secret to planning a deeply personal and meaningful wedding has nothing to do with budget. It's about creating a celebration that reflects a couple's core values. Translating those values is the work of Modern Wedding , an information-filled guide with hundreds of creative ideas and beautiful, inspiring photographs for readers to look at and say, "This feels like us."

The book unpacks every element of a wedding stationery, attire, seating plans, flowers and tablescapes, food and drink, gifts with examples that will appeal to couples who care about how things are made but are not overly influenced by trends. The emphasis is on natural surroundings, seasonal flowers and food, modern dresses, minimalist ceremony structures, and naked cakes. Photographs of real weddings "case studies" like a destination fete in Tuscany, a house party in Brooklyn, and a New Agey revel in Kauai show how all the pieces can come together into a unique and expressive whole. Extensive practical information and resources give readers access to all the help they need for their own unique celebration.

About the Author

Kelsey McKinnon grew up in Chicago and graduated from Boston University with a degree in English. She is a senior contributing editor at C Magazine, where she was previously on staff. She lives in Los Angeles with her husband and their three young sons.
Industry Reviews
"I always tell brides to follow their instincts. Women look their best when they feel comfortable and beautiful. Modern Wedding is a thoughtful guide to creating a celebration that is true to who you are."
Monique Lhuillier

"In the end, the best celebrations are the ones full of love and authenticity. Modern Wedding is the answer for any couple looking to create a heartfelt wedding that highlights their style."
Sunna Yassin co-owner/creative director of Bash Please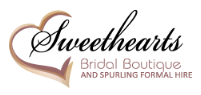 If you live in Australia and looking to buy a wedding dress the Look About team recommend Sweethearts Bridal Boutique is one of Sydney's leading retailer of wedding gowns, bridesmaids dresses , bridal accessories and mens suits.
Sweethearts have been providing this service for brides and grooms for over 30 years winning multiple awards for their highly regarded level of personal service. Brides come from all over Sydney, New South Wales and overseas to experience the amazing service and product range that they carry.
Their labels include Maggie Sottero, Sottero Midgley, Rebecca Ingram, Essence of Australia, Stella York, Martina Liane, Eliza Clark, Wendy Makin, Brides Desire, LV Trends ,Sorella Vita ,Wendy Ann, Jadore , Tinaholy, Moir Designs, Paco Also Accessories from Dreamtime Designs.
They also operate a Mens and boys formalwear using the exclusive Spurling range.
In House alterations are also provided to Brides by professional Dressmakers to take all stress away from Brides on there very important day
They extend a warm welcome to call or email and make an appointment to visit them so they can help you to find your perfect Gown for your very special wedding day!
To learn more about Sweethearts Bridal Boutique and their range of services, visit their website here: www.sweetheartsbridal.com.au